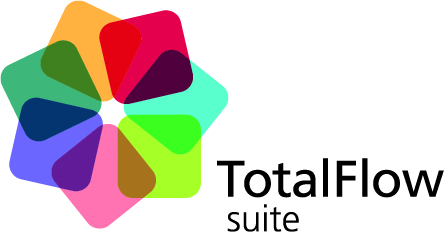 Ricoh Europe, London, 15 November 2016 – Ricoh has announced six new TotalFlow suites designed to help print service providers choose the best software solutions to improve end-to-end operation.
The handpicked collection of complementary solutions supports key production areas. TotalFlow Marketing Suite supports brand management and marketing automation and TotalFlow CCM Suite drives customer communications relevance. TotalFlow Publishing Suite automates publishing workflow. TotalFlow CRD Suite maximises CRD production efficiency.
For more general job handling TotalFlow Colour Suite establishes predictable and repeatable colour while TotalFlow O2D Suite facilitates the transition from offset to digital production. TotalFlow Cloud Suite has already been announced and was shown at drupa 16.Benoit Chatelard, Vice President, Production Printing, Ricoh Europe, says, "The suites comprise tried and tested software solutions designed to support print service providers. We have given these packages of best in class solutions considerable thought. We have listened to what our clients want and created suites that we believe best meet their requirements.
"They underpin TotalFlow's founding principles of developing opportunities, performance and productivity. Clients can invest confidently in the suites to make end-to-end improvements to their operations. They can enhance their efficiencies and even open new worlds of opportunity by adding extra services to their existing capabilities."
Chatelard adds, "The solutions have been selected from our wide portfolio, giving our clients tools they can use to help boost their businesses. They are supported by Ricoh's Professional Services and it is this specialist team's ability to integrate our solutions into clients' existing workflow environments that is the key to successful implementation."
TotalFlow suites are available now. All suites are in action at Ricoh's Open New Worlds events at its Customer Experience Centre in Telford, UK, in November.
Some examples are:
Ricoh TotalFlow Colour Suite
A carefully selected range of solutions to improve colour accuracy and consistency, match colours across devices and differentiate print with the use of metallic and decorative effects.
Ricoh TotalFlow Publishing Suite
Created for the short run production of digital books, these solutions simplify order intake, facilitate order management, automate workflows and track status. Advanced imposition and pre-flight can be integrated into the workflow to add another level of automation.
Ricoh TotalFlow CRD Suite
A unique set of solutions for the print room / CRD to optimise the preparation and submission of jobs whilst providing access to the full range of capabilities of the printing devices, including media and finishing. Powerful print management tools for optimising and automating tasks in a workflow such as imposition and pre-flight, as well as intelligent queue management are all available options in this suite.