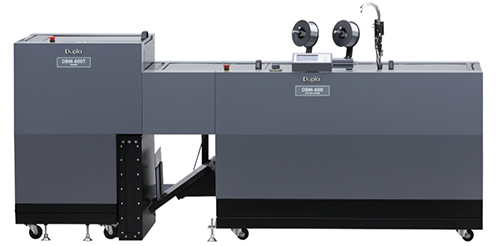 Ricoh Europe, London, 16 November 2016 – Ricoh has expanded its range of recommended finishing solutions to help print service providers streamline the cost efficient delivery of print. 
The Duplo DBM 350 and Duplo DBM 600 booklet makers have been added to provide European production printing operations with a broader choice of approved systems.
The Duplo DBM 350 and DBM 600 are robust, heavy-duty booklet makers. Both can be connected inline to Ricoh digital cut sheet devices: the Pro™ C9100, Pro™ C7100 and Pro™8200 series presses.Highly automated, they are quick to set up and easy to use, enabling the efficient handling of fast turnaround booklet production.
The DBM 600 also supports A4 landscape booklet production with the long sheet printing capability on the Ricoh Pro C9100 and Pro C7100 colour presses.
Benoit Chatelard, Vice President, Production Printing, Ricoh Europe, explains: "Print service providers rightly want the most effective and efficient results from their Ricoh investment. Once they have installed a press they expect consistent productivity that extends into their finishing processes. We have been working closely with finishing partners to identify the systems that best support the daily workloads of our clients. After extensive trials these two booklet makers stood out as systems that would support our clients in delivering high quality finished products. With these finishing systems they can create a complete end-to-end solution that increases production capacity and efficiency."
Discover Ricoh's full cut sheet portfolio at www.ricoh-europe.com.